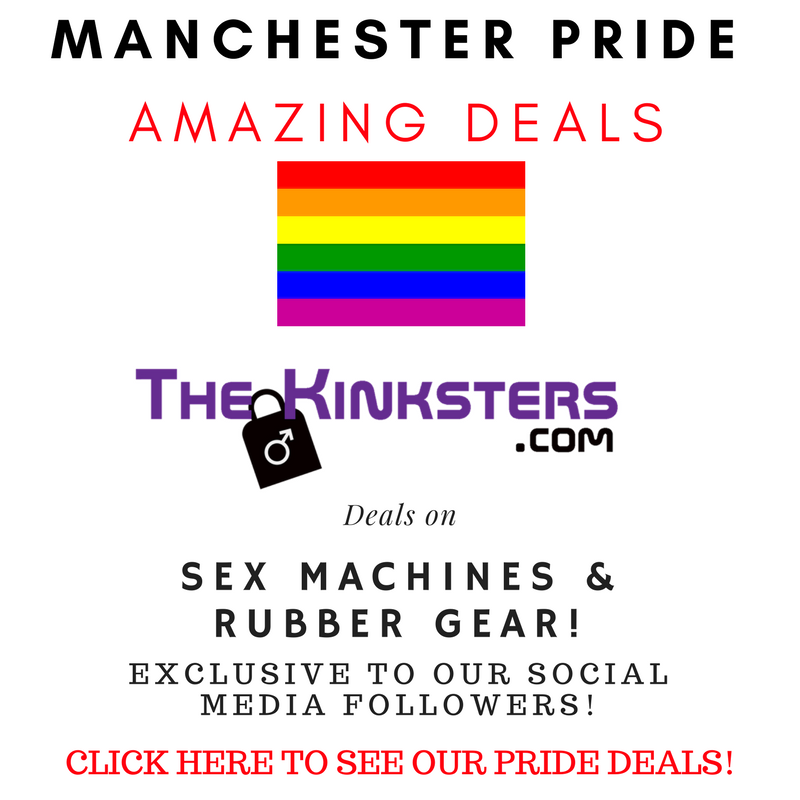 Manchester Pride Amazing Deals!
Manchester Pride is just around the corner, and this year we're marking it in style!
We're celebrating the fact we're one of the few remaining gay owned adult stores by giving you exclusive access to some incredible offers, just for our social media followers!


Get a massive £200 off the Sybian Sex Machine! Save £80 on the mind blowing Venus 2000!
Take £60 off the F-Machine Pro, and £40 off the F-Machine Gigolo Sex Machines!
We're giving you £40 off the Playharda.UK Heavy Duty Sling Frame!
And unbelievably we're offering all of our rubber gear and accessories at our wholesale price!
All these offers are exclusively for Manchester Pride 2017, and can only be ordered at the event.
We cannot take orders after, so make sure you get to our stall in the official Marketplace on Chorlton Street and fill in an order form!
(These offers are for orders only, and exclude shipping. Some products can take 2-4 weeks, depending on availability from manufacturer)
You can also take advantage of these offers by placing your order before the event and picking up from our stall over the Pride weekend!
Please contact us to arrange this and get our fantastic Pride offers!
(Order must be picked up at Manchester Pride. Orders not collected will be charged usual retail price plus shipping. Excludes custom Puppy Rubber Wrist Wallet).
Don't forget, we'll have all your usual rubber essentials like Vivishine, Vividress, and Viviclean at our stall too!

Manchester Pride 2017 Marketplace – Chorlton Street, Manchester, M1 3FY
Saturday 26th August – 11am – 9pm
Sunday 27th August – 11am – 9pm
Monday 28th August – 11am – 6pm