Construct-A-Pup - Modular Puppy Hood & Accessories
Code:

CP001

Weight:
A unique and fun way to build your own pup hood!
Modular design
Personalise your hood by choosing your own accessories
Choose your own hood, ears, patches and tongue
Different colours and styles
Be unique!
Change your hood anytime by getting more accessories
Rubber & Leather hoods available
Half and full hood styles
All hand made in the UK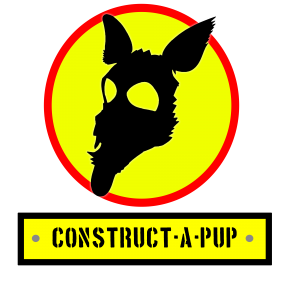 Place an order for £35.00 or more to get
FREE STANDARD UK DELIVERY! (Excludes sale items)
Detailed description
Construct-A-Pup by The Latex Factory is a brand new way to build your own puppy hood!
Be unique and choose your own style. Let your hood be a mirror of your pawsonality with this modular designed and high quality piece of head gear.
With 4 simple steps, you can pick and match your hood exactly to your liking. With a range of colours and styles available, there's something to suit every pup!
The neoprene hoods are made of 3mm thick SmoothSkin Neoprene. This ultra smooth neoprene has a slight reflective shine, and looks and feels great! It's also incredibly light and breathable, great for longer wear!
The rubber hoods are made of 2mm thick rubber, designed to be strong and durable. Perfect for rubber pups and those lovers of latex!
All of these hoods and accessories are carefully hand made in the UK, with great attention to detail.
Step 1
Pick your hood. Choose from half or full hood style, and choose from rubber or neoprene.
Step 2
Pick your ears. Choose from a range of colours and styles. Choose two individual ears, or pick a matching pair.


Step 3
Pick your patches. With a range of colours available, choose a matching pair, or go for two different colours to spice things up. Match them with your ears, or go wild and pick something outrageous!
Step 4
Choose your tongue. Pick a long or short tongue to complete your hood. Choose from a range of colours.
Then just add it to your basket and you're done!

Already got your hood, and just looking for a set of ears or a tongue? Just remove the hood from the options and choose the accessories you want.